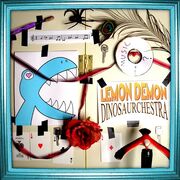 Bill Watterson is the creator of the comic Calvin and Hobbes. According to Neil, "He is reclusive and private. This song is about stalking him." It appears as a bonus track on the album Dinosaurchestra. A later version was written, consisting of two extra verses and a short bridge, and appears on the album View-Monster.
Where'd you go when you were done?
I'd like to know what you've become.
Your biggest fan, awake at dawn,
I cry, I stand on your front lawn.
It's plain to see you're scared of me,
But that's not how it's supposed to be.
When you're the reason I'm in town,
And every piece of mind you put down…
Don't you know I think that you're the cat's meow?
Where's the tiger now? Where's the tiger now?
Bill Watterson, can't you hear me?
Bill Watterson, please don't fear me.
Don't treat me like I have rabies,
I only wanna have your babies.

Community content is available under
CC-BY-SA
unless otherwise noted.