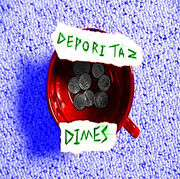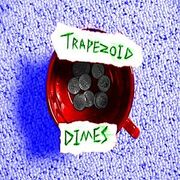 Dimes is Trapezoid/Deporitaz's third album, released in November 2002. It's currently the only album in the Deporitaz discography to feature original vocals on a few of the tracks. Following the release of this album, Neil Cicierega created Lemon Demon, moving his focus on that project. For a while, it had seemed that the Deporitaz name had become retired completely until the release of Circa 2000 in 2007, a collection of Deporitaz tracks made around the titular year.
Track Listing
[
]
Blue Goggles

The World's Worst Secret Track

Antispider

Pink Lemons Exist

Nocturnal King Bob

Wizard Hat Pie (feat. Shmorky)

Super DeadLight X

Sim Fandango

Please Don't Recycle

Invisible Blood
Pre CD release dates
[
]
Blue Goggles: August 19, 2001
Antispider: In or before January 2, 2002 (most likely 2001)
Monkey Brain Soup for the Soul: June 8, 2002
Killed By Telephones: In or before August 17, 2002
Nocturnal King Bob: In or before August 17, 2002
Duracell: September, 2002(?)
I Know Your Name: October 4, 2002
Trivia
[
]
Though there is no way to find the exact release date of Dimes, based on other links close to Dimes mp3.com address, it was released on November, if not December.
This is the first album to feature Neil's vocals.
The CD art for this album was thought to be lost, but was scanned and made public by an owner of the CD in February of 2021.