This article is about the website known as EvilTrailMix. For information concerning the song, go to Evil Trail Mix.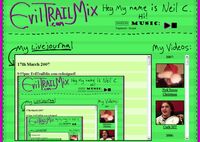 WARNING: The EvilTrailMix URL no longer belongs to Neil and now redirects to a porn site. If you'd like to see the original for yourself, please use the Internet Archive's WayBack Machine function to view earlier captures. A link to the latest one is provided in "External links" for your convenience.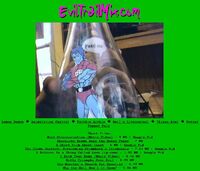 EvilTrailMix was a personal website run by Neil Cicierega. It acted as a general hub for Neil's projects such as Lemon Demon, Potter Puppet Pals and Animutation. (All three have since received their own webpages.) It also hosted certain songs from Neil's musical projects.
On the 18th of March 2007, EvilTrailMix received a complete redesign. As well as the ability to stream Lemon Demon and Deporitaz songs, the update also introduced thumbnails for Neil's short films and a link to his LiveJournal.
Neil has since moved his hub of projects to neilcic.com and placed a timed redirect link to there on EvilTrailMix's URL. However, visitors were given the option to instead follow a link to the archived EvilTrailMix page if they desired. Since 2019, the URL now redirects to an unrelated pornography site.
Trivia
External links
Community content is available under
CC-BY-SA
unless otherwise noted.