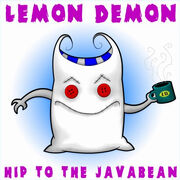 Hip to the Javabean is Lemon Demon's third album, released on March 23, 2004, and the first not to be released on MP3.com. It is also the only Lemon Demon album with a ReadMe file. Lemon Demon's first two albums, out of print by the time of Javabean's release, are included as MP3s on the data track. Emmy Cicierega drew the cover art.
Track Listing
Edit
Bonus Tracks
Edit
Also Contains
Edit
Pre-CD release dates
Edit
There's a Robot in My Head: April 12, 2003
Almond: September 9, 2003
I Know Your Name: Before October 4, 2003
Relativity: October (Before October 13) , 2003
Behold the FUTURE: November 5, 2003
I've Got Some Falling To Do: November 6, 2003
Your Evil Shadow Has a Cup of Tea: In or before November 15, 2003
Telekinesis: (December 18?) 2003
Consumer Whore: February 16, 2004
Fancy Pants Manifesto: February 25, 2004
Sunbeam Light Show Flower Seed: March 4, 2004
Community content is available under
CC-BY-SA
unless otherwise noted.