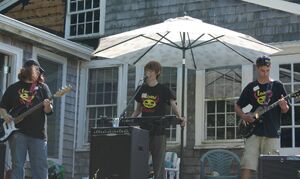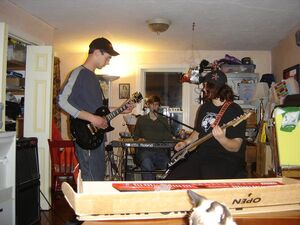 In live performances, Lemon Demon currently consists of Neil Cicierega on vocals and keyboard, Alora Lanzillotta on bass guitar, Neil's brother-in-law Chooch (the titular Charles of Charles & Leah Forever) on guitar, Greg Lanzillotta on drums, and sometimes Dave Kitsberg on guitar. Drums were originally prerecorded tracks played by Professor iPod before the band obtained a human drummer, Tony Wry. In November 2008, Tony moved to Detroit, temporarily leaving Lemon Demon without a drummer. Alora's brother, Greg Lanzillotta would later replace Tony. A secondary guitarist by the name of Dave Kitsberg would also be added to the line-up.
Lemon Demon's live performances have mostly been at open mics and have also included a performance at Neil's sister's wedding and performances on Neil's sporadic internet radio show, Hooray Radio. The trio version of Lemon Demon made their live debut at Awesomefest 2006 (see below). They've also peformed at the anime convention in Detroit called Youmacon annually from 2007 to 2012. Ever since their latest peformance at Youmacon in November 2, 2012, the live band hasn't peformed anymore gigs since.
Some songs, like Elvis Porn and Charles and Leah Forever, were available as live recordings long before studio versions were produced.
Band Members
Edit
Repertoire
Edit
These are the songs that Lemon Demon is known to have played live at some point:
Originals
Edit
Theme Songs
Edit
Live dates and setlists
Edit
2006-07-30: Lemonic Demonade 2006, Kingston, MA
Edit
This list is probably in order, but is incomplete.
2007-04-21: Imagination Summit, Westport, CT
Edit
2007-07-29: Lemonic Demonade 2007, Kingston, MA
Edit
A direct recording of this concert exists.
2007-09-21: Imagination Summit 2, Kingston, MA
Edit
Friday show on the Youmacon stage:
Saturday show in the lobby; collaborations with Aaron Ackerson and The Spoony Bards:
2008-04-18: Knights of Columbus, Kingston, MA
Edit
The full setlist and order are currently unknown but these songs are known to have been played:
2008-08-03: Lemonic Demonade 2008, Kingston, MA
Edit
2008-??-??: Live at the Middle East
Edit
The full setlist has been lost.
Community content is available under
CC-BY-SA
unless otherwise noted.