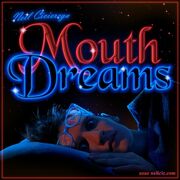 Mouth Dreams is the fourth mashup album in the Mouth series by Neil Cicierega. It was released on September 30, 2020. The album was teased through a YouTube video uploaded on September 28, 2020. The album is available on neilcic.com/mouthdreams .
The album has a Freequel: Mouth Sounds, a Shriekquel: Mouth Silence, and a DayQuil: Mouth Moods.  
Hidden Messages
Edit
Prior to the album's release, a hidden message could be found in the code of the release page:
<!-- Just FYI the album's not uploaded at all,
 and there aren't any secrets or anything like that here.
 Please don't goof around, just wait for the release! -->

An archive of the pre-release page can be found here.
The album cover contains sparkles on various letters which when picked out spell "NICE MODEMS".
Increasing the exposure on the album cover shows that Neil's eyes contain symbols in the Wingdings font which are the letters M and D. The image of an Ewok can be seen normally in Neil's glasses as well.
Applying a spectrogram to the audio file for "Mouth Dreams (Extro)" reveals letters in the Wingdings font that spell "KERHS TSURT TON OD" or in reverse "DO NOT TRUST SHREK".
Additionally, in the comments of every track's metadata, there is a letter, much like in Mouth Silence. These letters, if the track names are arranged in reverse alphabetical order, spell out the following (slashes are added for comprehension):
i/cant/think/of/a/secret/message

Track Listing
Edit
No.
Title
Featured Works
1
Yahoo
Clip of Wylie Gustafson yodeling "Yahoo"
2
Mouth Dreams (Intro)
Theme from The Twilight Zone
3
Spongerock
We Will Rock You by Queen
Spongebob Squarepants Theme
4
Just a Baby
Folsom Prison Blues by Johnny Cash
Baby by Justin Bieber
The Reason by Hoobastank
5
Superkiller
Psycho Killer by Talking Heads
Super Freak by Rick James
6
Get Happy
Eggs-actly What's Inside from "That's My Ronald"

C'mon Get Happy by The Partridge Family

7
Ribs
Baby Back Ribs by Guy Bommarito
Everybody Wants to Rule the World by Tears for Fears
The Beautiful People by Marilyn Manson
The Lion Sleeps Tonight by The Tokens
8
My Mouth
Dream On by Aerosmith
Brain Stew by Green Day
9
Aerolong
Everlong by Foo Fighters
I Don't Wanna Miss a Thing by Aerosmith
10
Sleepin'
My Own Worst Enemy by Lit
11
Aammoorree
That's Amore by Dean Martin
12
Where is My Mom
Where is My Mind by Pixies
Stacy's Mom by Fountains of Wayne
13
Fredhammer
Sledgehammer by Peter Gabriel
Nookie by Limp Bizkit
Theme from Seinfeld by Jonathan Wolff
14
Limp Wicket
Ewok Celebration by Meco
Nookie by Limp Bizkit
15
Cannibals
Jingles of Worldvision, Viacom, PBS and WGBH Boston 
THX Trademark Sound "Deep Note"
She Drives Me Crazy by Fine Young Cannibals
16
The Outsiders
The Outsiders (1983) trailer with voice over by Don LaFontaine
Other Don LaFontaine voice overs
17
Johnny
Hurt by Johnny Cash
Never Gonna Give You Up by Rick Astley
18
Closerflies
Closer by Nine Inch Nails
Fireflies by Owl City
19
Nightmovin'
Movin' Out (Anthony's Song) by Billy Joel
Nightmare by Avenged Sevenfold
20
Whitehouse
Powerhouse by Raymond Scott
Fell in Love with a Girl by The White Stripes
21
Wah
Wannabe by Spice Girls
War by Edwin Starr
Down with the Sickness by Disturbed
Various vocal samples of Wario
22
Pee Wee Inc.
Breakfast Machine (From "Pee Wee's Big Adventure") by Danny Elfman
Feel Good Inc. by Gorillaz
23
10,000 Spoons
Ironic by Alanis Morissette
Theme From Knight Rider by Stu Phillips
Iron Man by Black Sabbath
24
Mouth Dreams (Extro)
Drowning by Backstreet Boys
All Star by Smash Mouth
Chop Suey by System of a Down
25
Brithoven
Symphony No. 5 by Ludwig Von Beethoven
Baby, One More Time by Britney Spears
26
Ain't
Say it Ain't So by Weezer
In The Hall of the Mountain King by Edvard Grieg
Community content is available under
CC-BY-SA
unless otherwise noted.