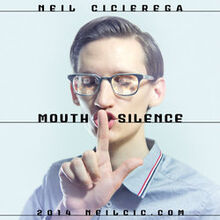 Mouth Silence is a mashup album by Neil Cicierega released on July 19, 2014 on SoundCloud and is available on neilcic.com/mouthsilence for download.
It has a sequel, Mouth Sounds, and later received a threequel, Mouth Moods.
Track listing
Edit
No.
Title
Featured works
1
"Goodbye"
Third Eye Blind's "Semi-Charmed Life"
Yes' "I've Seen All Good People"
2
"Rollercloser"
The Ohio Players' "Love Rollercoaster"
Nine Inch Nails' "Closer"
Kool and the Gang's "Jungle Boogie"
3
"Furries"
Hanson's "MMMBop"
The Jimi Hendrix Experience's "Foxy Lady", "Purple Haze"
Ylvis' "What Does the Fox Say?"
4
"Friends"
The Rembrandts' "I'll Be There For You"
Disturbed's "Down with the Sickness"
5
"Best"
Foo Fighters' "Best of You"
Rockapella's "Where in the World is Carmen Sandiego?", Folgers jingle
Zapp and Roger's "More Bounce to the Ounce"
Tina Turner's "The Best"
Joe Esposito's "You're the Best"
One Direction's "Best Song Ever"
TaleSpin theme
Pokémon theme
6
"Pokémon"
The Jackson 5's "I Want You Back"
7
"Sexual Lion King"
Elton John's "Can You Feel the Love Tonight"
Marvin Gaye's "Sexual Healing"
"Circle of Life" from The Lion King
8
"Crocodile Chop"
Elton John's "Crocodile Rock"
System of a Down's "Chop Suey!"
9
"Transmission"
David Bowie's "Space Oddity"
10
"Love Psych"
The B-52's' "Love Shack"
Bernard Herrmann's Psycho score
11
"Orgonon Gurlz"
Kate Bush's "Cloudbusting"
Katy Perry's "California Gurls"
12
"Born to Cat"
Bruce Springsteen's "Born to Run"
Bent Fabric's "Alley Cat"
13
"What Is It"
Faith No More's "Epic"
War's "Low Rider"
14
"It's"
Michael Palin saying "It's..."
Bon Jovi's "It's My Life"
John Philip Sousa's "The Liberty Bell"
15
"Close to the Sun"
The Carpenters' "(They Long to Be) Close to You"
Soundgarden's "Black Hole Sun"
16
"Numbers"
Carly Rae Jepsen's "Call Me Maybe"
Cake's "Never There"
Milli Vanilli's "Baby Don't Forget My Number"
David Bowie's "Space Oddity"
No Doubt's "Spiderwebs"
Ray Parker, Jr.'s "Ghostbusters"
Kraftwerk's "Numbers"
Misc samples from premium-rate telephone number commercials and novelty answering machine greetings
17
"Space Monkey Mafia"
Billy Joel's "We Didn't Start the Fire"
R.E.M.'s "It's the End of the World as We Know It (And I Feel Fine)"
18
"Wndrwll"
Oasis' "Wonderwall"
Jesse Frederick's "Everywhere You Look"
19
"Piss"
Third Eye Blind's "Semi-Charmed Life"
Enigma's "Return to Innocence"
Chumbawamba's "Tubthumping"
Justin Timberlake's "Rock Your Body"
Spin Doctors' "Two Princes"
Hampton The Hampster's Hampster Dance
Morse code that means 'SOMEBODY ONCE TOLD ME', half of the first line of Smash Mouth's All Star.
Community content is available under
CC-BY-SA
unless otherwise noted.