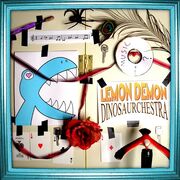 Turkeys is a hidden track on Dinosaurchestra only accessible by waiting seven minutes after The Too Much Song on the PC version of the commentary. (It was added too late to be sent to LÆB for inclusion in the Mac version.)
Turkeys!
Turkeys?
Who likes turkeys?
I like turkeys.
Oh yeah?
Oh yeah!
Well, have I got news for you.
What's that?
I am a turkey.
I am a turkey.
I can see you're quite surprised.
Man, I can't believe my eyes!
Where'd you come from anyway?
Gobble gobble gobble.
Wow!

Community content is available under
CC-BY-SA
unless otherwise noted.